Just a note of thanks to you and your crew for our party on Saturday.  Everyone loved it, and it was fun for me too!  I appreciate your great food and service.  ~ Karen Nelson, June 2023
2018 Best of Nevada County!! Thank you Nevada County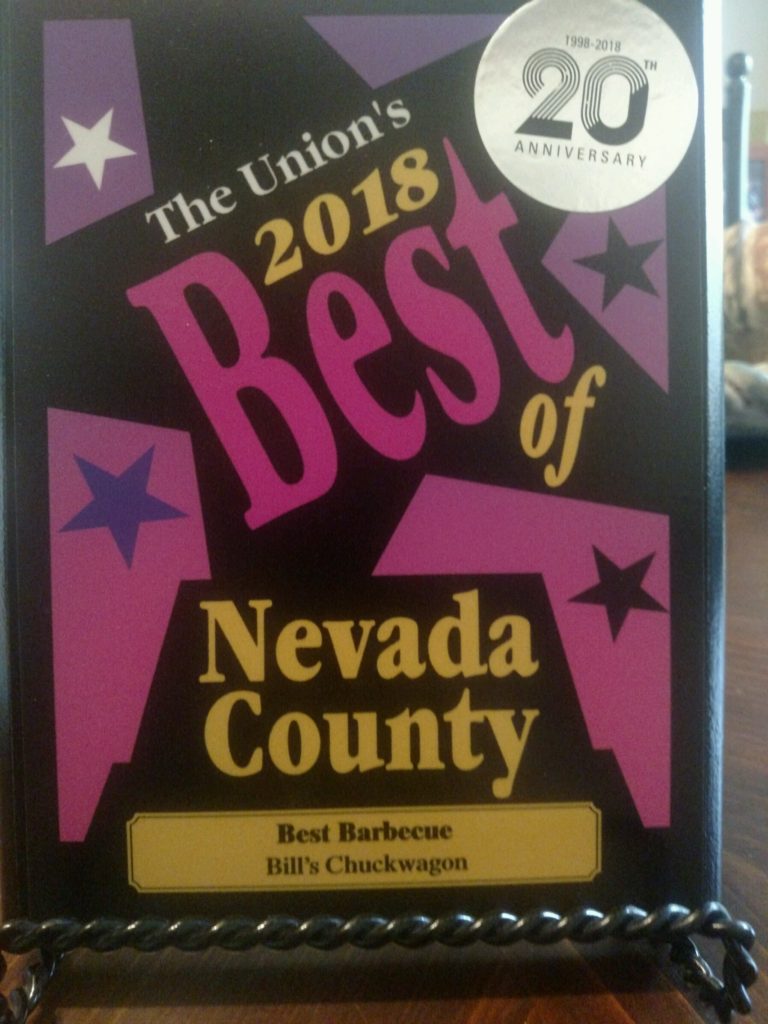 ***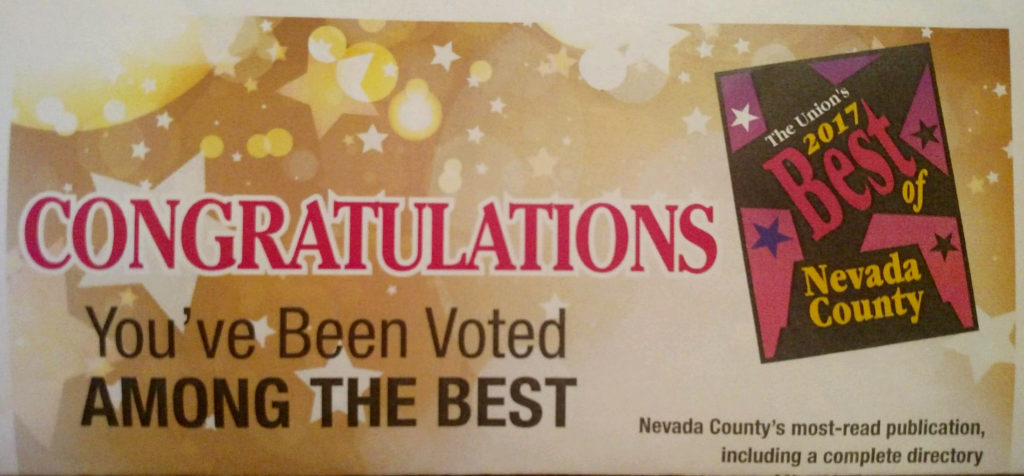 June, 2019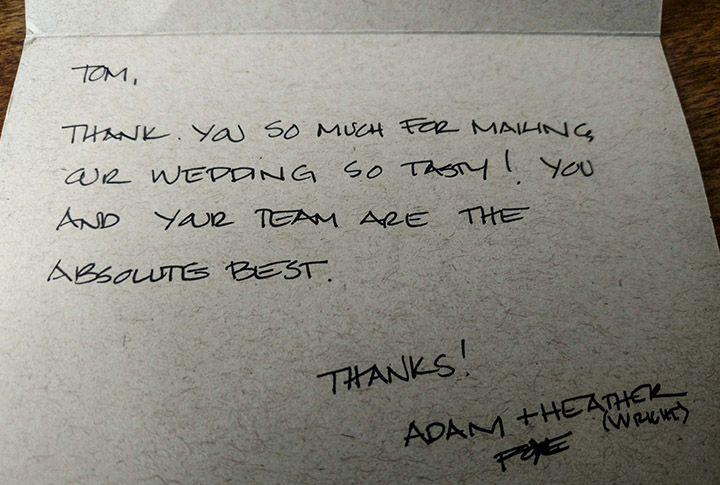 Tom & Team, Your service and FOOD was above and beyond. Everything was cooked to perfection and you were all so friendly. Our guests are still telling us how good y'all were. Thank you from the bottom of our hearts for making our day so wonderful.
Sincerely, Cameron & Aubry Vreugdenhil ~ 1/2022
Best food in town too. And the friendly customer service can't be beat. You need to reserve ahead though they are in high demand.
~Deb Foxen, January 2021
I highly recommend Bill's Chuckwagon!
~CiCi Stewart,  November 2020
I attended a wedding yesterday in Lincoln that you catered. Just wanted to say the food was awesome. The beef, chicken and salmon were tender and tasty. Thank you for the great dinner!
~Matt, October 2020
We love there food and staff!
We are local DJ's and attend a lot of weddings, and we get the privilege to try all their food and WOW. Yummy! They have never disappointed us and they have always been amazing to work with!
~April DePiazza Sept. 2019
Tom and his crew did an amazing job at our daughters wedding reception this past weekend. The food was amazing and everyone was so friendly and professional.
~ Eva Brotemarkle June 2018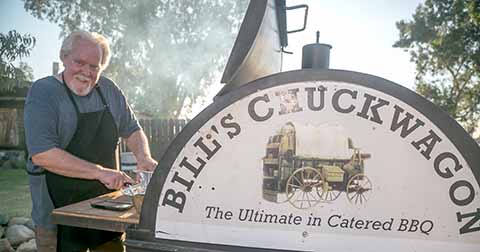 Thought you would like this photo to post on your facebook page or website. We are still getting raves about the food! Thanks Again.
~Heather & Kelly Amadeio, October 2017
Thanks again Tom for the great food, super-fast serving lines, very nice staff who even helped clear guests' plates, discount on price, use of tubs for beverages, being so easy to work with and punctual!  You helped make it the best Cancer Center Picnic ever (I am told)!
~Shari, SNMH June 2017
I wanted to send a note of thanks.  From the first moment on the phone you made my job very easy for the planning of the Safety BBQ here at NID. I am very appreciative of your kindness, professionalism and of course how yummy your food was. Everyone at the District talked about how great the food was.  Again, I say thank you!!!
~Cindy, May 2017
Dear Tom and Lisa,
I wanted to take the time to thank you for such wonderful food, care and service for the celebration of life for my daughter, Nicholle, April 29, 2017. The chicken and beef was perfectly delicious and all our guests loved your food. Lisa, thank you for your care and kindness. Couldn't have been more perfect. Thank You so much and God's blessing to you both.
~ Pamela, 2017
Thank you for a wonderful BBQ yesterday! The food was delicious! Your staff was wonderful as well. Everyone enjoyed the perfectly cooked food.
~ Debbie, 2017

Thank you so much for the delicious food at our wedding! It was fun and tasty, and it was great working with you. We'll definitely refer you to any friends in the area!
~Noelle and Leo, 2016
Thank you for catering our wedding! The food was delicious, everyone loved everything.
~Teresa and David, 2016
A heart-warmed thank you for your donated food items during our 2015 Night of Giving benefit for Hospitality House.
~Sandy Brown, 2015
Wonderfully to work with from the first phone call to the end of our event! Could not have been better. Great food, friendly people, everything went perfectly, and at a great price too. We just loved them!
~Linda Simons, Mother of the Bride 2015
Year after year you provide our club members with great food at our social events and fundraisers. I want you to know how much you're appreciated. You are truly a great Rotarian.
~Fondly, Anita 2015
Thank you so much for catering our wedding on 9/5/15. Everyone loved the food and raved about the meatballs.
~Thanks, Peter & Ciera Sewell

"Everyone was delighted and impressed with the BBQ on Sunday. The plentiful food was truly delicious and appreciated. All kept remarking about how well seasoned, tender and melt-in-your-mouth both the tri-tip and chicken were.

Lisa was a true gem; very social, polite, interesting AND a terrific chef!  And what a hoot it was to have Jerrilyn show up!  She and I worked together for years, and she knew many of our guests. She was lively, witty and great fun to see as she assisted Lisa.

All in all, it was a perfect BBQ and we were most grateful we were the recipients of the Nevada City Chamber of Commerce's silent auction for your generous donation."

~Thanks so much, Karen and Frank 2015
"To Tom and the team, thank you so much for coming out to help make our wedding a success! Everyone was talking about how good the food and service was! And Tom, you were right about the mushrooms, all the vegetarians were raving about how amazing they were! Thank you so much!"
~Jessica & Byran Botsford 2015

"Thank you so much for helping to make our wedding perfect! Your food was so delicious and everyone loved it. You were so great to work with and we really appreciate it!"
~Terra and Ian Falconer 2015
"Words cannot express our sincere appreciation for the wonderful job you did for our party last Friday.
Your BBQ was amazing – and yes, your ribs are THE BEST we have ever had. And your corn – so yummy! Everyone loved everything! And your BBQ rig outside the Hall was a great addition to our country celebration.
But it wasn't only your food that was so wonderful. You were a gracious host for my guests and I sincerely appreciated that. Several people mentioned to me how wonderful "Tom and Jerry" were and how much your presence and personality added to our event.
So thank you for such a wonderful job!"
~Nicole and Stacy Sandkulla 2015

4 star rating
Yummy BBQ   posted on The Knot 2014-10-21
"Bills Chuckwagon was delicious and easy to deal with. We selected a basic beef and chicken BBQ with salad, potatoes and garlic bread. The owner was flexible with my guest count up until the week before the wedding. Unlike many places that require final head count 30 days before, he allowed me to change mine all the way to a week before. This was really nice so that I didn't end up paying for people who had cancelled. Being the bride, I quickly shoveled all the food in my mouth, but from what I can remember, it was delicious. Many of our guests have actually mentioned how good they thought the food was. Meat was tender and delicious and potatoes were perfect. I would recommend to anyone looking for a simple BBQ caterer for a reasonable price."
"Thank you so much for cooking all the amazing food for our wedding! It was everything we could have asked for!"
~Niko & Racheal 
"Thank You so much for all of your work in making our wedding day so wonderful!! You truly helped to create an experience for our guests that exceeded our expectations , you were such a pleasure to work with!!"
~Blake & Caitlin Allenby, June 7, 2014
"I just wanted to thank you and let you know that the barbeque was a huge hit!  The food was great- everyone commented on how delicious it was.  And your workers were so pleasant and helpful.  We couldn't have asked for more.  Thank you so much!"
~Marge Cooley
"Thank you so much for catering our company picnic yesterday.
We have used a lot of caterers throughout our 30 years and I don't think we have ever had the meal prep and service go so smoothly and taste so good! You showed up right on time, the dinner bell rang at exactly 5:00 and there was plenty of food.  Your assistant Lisa was great as was Tina the bartender. Thank you so much, we really appreciate your company!"
~Marilyn Peters, Peters' Drilling & Pump Service, Inc.
"My thanks to you for an excellent dinner last night. Everyone commented on your wonderful food. You
were so easy to work with and we truly enjoyed it all."
~Janet D. Reynolds, Chair, Fundraising Committee Nevada County Democratic Central Committee

"I want to thank you from the bottom of my heart for doing such a wonderful job at our wedding! Our guests loved the food and it went perfectly with our venue. The late night snack was a HUGE hit.
You were so incredibly accommodating throughout the whole planning process and went above and beyond what was required of you. It truly was a pleasure working with you."
~Jenna, Tahoe Wedding
"Thank you for catering the employee's appreciation party following the Fair. It was hands down the best party we've had, mostly because the cooking and cleaning was in your capable hands. Thank you for providing us with a delicious meal!"
~Sandy Wood, CEO Nevada County Fairgrounds
"Thank you so much for catering our wedding! The food was an absolute hit and was more than we expected. You're great! The service, food & atmosphere you bring was wonderful. We'll recommend you every chance we get!!
~Marrisa & Anthony Shmatovich
"Just want you to know – You're the BEST! I've done a lot of dinners and usually get complaints of one kind or another.My experience with Bill's has been Rave Reviews. The food is delicious and plenty of it for each person. It's right on time and the value is GREAT!"
~Cathy Whittlesey, Nevada City Chamber of Commerce
"People are still raving about the food you cooked at our daughters wedding! The chicken was so moist, and the grilled veggies were perfect! Your staff was top notch, it exceeded our expectations!"
~Kathy Tritz, Folsom, CA